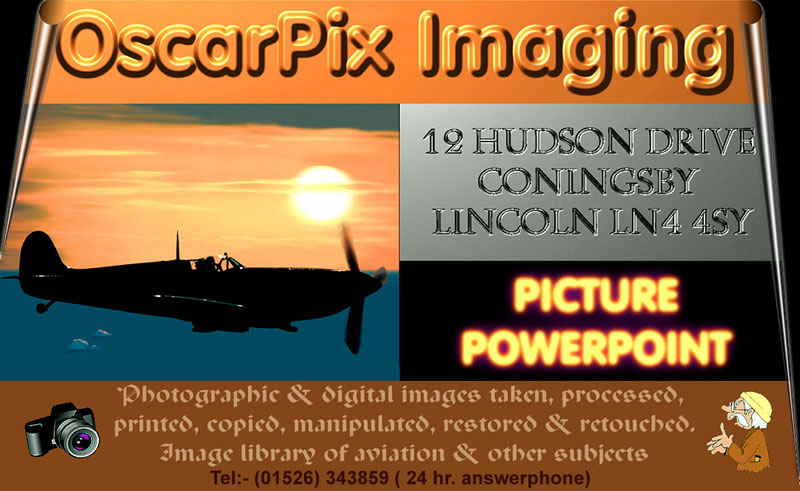 "OscarPix Imaging" is the trading name of photographer/photo-journalist Colin "Oscar" Smedley. Oscar specialises in the photography of aviation and of natural history subjects. Although images on these themes are supplied to agencies several thousand Images are held in the OscarPix files. If you need something specific please ask.
OscarNow retired from the sharp elbowed professional world Oscar has been working as a freelance photographer for the last twenty-four years under contract to Mortons of Horncastle, Lincolnshire Newspapers and, more recently, to East Midlands Newspapers so also has extensive files of images of the goings-on in mid Lincolnshire during this period. These pictures were taken, in the main, for publication in the Horncastle News and sister publications and on the Horncastle News website. To keep his hand in Oscar still supplies photos to the fotoLibra and Redbubble agencies from his files and pursues photography as a hobby with the Horncastle and District Photographic Society.
On top of all this, Oscar has also over forty years of experience in the restoration of old and historic photographs both by hand (with knife, pencil, brush and airbrush) and by computer/digital techniques.

Click here to e-mail Oscarpix or use the link enquiries@oscarpix.co.uk
Please take time to explore the rest of the site and the links to related sites on the web. Enjoy!
---

Click on the red button to visit Oscar's Open House

Click on the blue button to go to My Aircraft Photo Gallery

Click on the green button to read The Incredible Oscar Story
f
---

Click on the yellow button for The Horncastle Photographic Society's homepage
---


See lots of my photos on the fotoLibra website

Not available

The RAF Halton Apprentices Association

The 87th Entry of RAF Apprentices homepage

My photos and photo products for sale on RedBubble